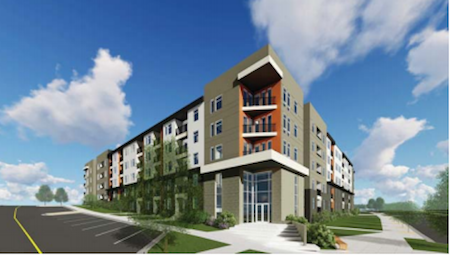 By Kevin Collison
Rezoning for a major office and residential mixed-use project proposed for a 22-acre site northwest of 115th and Lamar was endorsed by the Overland Park Planning Commission Monday.
Copaken Brooks wants to build two, six-story office buildings and a 520-unit apartment project on the site which is currently vacant land. It's located near the headquarters of Black & Veatch and Sprint.
The south half of the development site calls for two, four-story apartment buildings served by a two-level garage with 853 spaces. The north half would feature two office buildings totaling 323,000 square-feet with retail space totaling 10,000 square feet on the first levels.
The office buildings would be served by a two-level, garages totaling with about 1,300 spaces. A civic plaza would be at the center of the development featuring a sculpture and benches. it also would be at the center of a traffic roundabout serving the development.
Developer Keith Copaken said the residential portion of the development could be begin as soon as final approvals are won from the city. Work on the office buildings would wait until tenants were lined up. No cost estimate was available for the development.
The mixed-use project, which has not been named, was described as a walkable, sustainable development where residents of the apartments could walk or bicycle to the office portion of the project or other nearby office buildings.
"We want to create a village and community," said John Vinder of Denver-based Kephart, which is handling the residential component of the project.
There were objections by the planning department staff to the development's plan to use native grass for about 30 percent of the site, the size of the civic plaza and the design of the apartment buildings.
The apartments would use brick, stucco and concrete for its exterior. Each of the apartment buildings also would have a two-story clubhouse. The office buildings would be mostly glass with some precast concrete.
Those details will be discussed before the development plan returns to the Planning Commission for final consideration. The commissioners approved the rezoning request unanimously.