By Guy Gardner
Do you remember what it's like to be 13?
Hopefully you have fond memories, but we're sure there is some teenage angst sprinkled in that noggin of yours.  The next musical at Theatre in the Park tackles what it means to be a young teenager in today's world.  And it's not one you'll want to miss!
Here's the deal – Evan Goldman has the perfect life.  He's living in New York City, preparing for his Bar Mitzvah, and everything is great.  What could go wrong? Oh, how about moving to the antithesis of NYC – INDIANA.  A teenage nightmare.
Our story centers around Evan (played by Kamryn Henderson) as he experiences what it means to be a teenager.  Upon arrival in Indiana he meets Patrice (played by Jocelyn Salter) and Archie (played by Jacob Banman).  Both Patrice and Archie wouldn't really be considered the 'cool kids' in school, however they befriend Evan and become his confidants as he begins planning his Bar Mitzvah in a new town.  He knows what he needs to do – get the popular kids to come.  All of his worries will be washed away if the most popular kid in school Brett (played by Nile Clipner) and his goonies, Malcom and Eddie (played by Evan LeRoy and Kenyon White) attend.
The popular kids aren't too fond of Patrice, so when they find out she's coming – they are OUT.  Evan then hatches a plan to impress Brett, but Evan also needs Archie's help.  Criss crossing plans means Evan has set up Brett AND Archie on separate dates with the prettiest girl in school, Kendra (played by Delilah Pellow).  At the movies, chaos ensues.  We will leave it at that!
"13" is the only musical produced on Broadway with a cast and band of teenagers.  The TIP production includes 26 amazing performers ranging in age from 12 to 15 from numerous surrounding school districts in Kansas and Missouri.
Amy Sander is making her Theatre in the Park directorial debut with "13."  When asked about "13., Amy says "Being a young teenager is difficult. The way life transitions … the way certain stereotypical cliques interact (or don't) … the feeling of being alone (and not realizing that every one of your peers feels the exact same way) … the utter chaos of situations and decision-making … and the "end of the world" issues (that you later realize were simple by comparison to things later in life). We all go through it at some point, so we all can relate. (Even though teens THINK their parents don't understand.) That is what makes this show incredible … it is SO relatable!"
"13" is rated PG-13 for suggestive language and the harsh reality of youth.  Most of us remember the ups and downs of the 'coming of age' time and "13" hits the nail on the head with memories.  Don't be surprised if you are reminded about some of the things you said or did when you were in middle school and maybe have a little internal "cringe" moment.
This musical is crafted with the teenager in mind.  It's amazing to watch them relate to the content and have an amazing time performing it.  One detail not to miss is the set of "13."  You'll notice emojis plastered on it that were selected by the Theatre in the Park Instagram followers and phrases voted on by the cast of "13."
"13" is the midway point in the Theatre in the Park OUTDOOR season, running from June 30 to July 8.   The Theatre in the Park Box Office opens at 7 pm. Gates to the amphitheater opening at 7:30 pm.  Showtime is 8:30 pm.  Order Reserved Seats early and take your time getting to the theater as the seat will be ready and waiting for you.  Reserved Seats are just $20.  Anytime tickets are $10 for adults, $6 for young ones ages 4 – 10, and 3 and under are free (with a ticket required).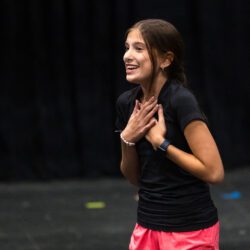 "13's" cast of teenagers includes Kamryn Henderson, Jocelyn Salter, Nile Clipner, Evan LeRoy, Kenyon White, Delilah Pellow, Jacob Banman, Maddie Hendricks, Aubrey Richardson, Max Duffy, Viviana Carias, Eli Aikman, Charlie Tietjen, Joaquin Gonzalez Layton, Aliyah Hart, Jenna Hass, Brooke Jenkins, Dylan Johnson, Elliana Farrow, Holly Lichtenauer, Lainey McManamy, Delainey Mock, Ryan Peterson, Jordan Rosenwald, Kellen Serrano, and Harper Wright.  Learn these names, as we're sure you'll be seeing all of them performing around town for many years!
Performances at Theatre in the Park are one of several JCPRD programs eligible for free tickets or admission through the Sunflower Summer promotion offered through Aug. 13 by the Kansas Department of Education. Now in its third year, this app-based program partners with more than 115 venues across the state to provide a summer of enrichment for pre-K to 12th grade students in the state of Kansas, as well as their parents and legal guardians. The program is designed to provide a wide variety of ways for families to get out, explore something new, and enjoy time together. Get started by going to sunflowersummer.org to download the app and create an account. Other participating JCPRD program areas include the Johnson County Museum, 8788 Metcalf Ave., Overland Park, and the Ernie Miller Nature Center, 909 N. Kansas 7 Highway, Olathe.