If you're looking for a place to unwind or disconnect and enjoy some time outdoors before it gets too cold, Post readers have you covered.
From quiet woodland trails to tranquil lakes, here are some of the most peaceful parks in Johnson County.
Lexington Lake Park — Northwest Johnson County
Run by Johnson County Park and Recreation District, Lexington Lake Park has more than three miles of trails, both paved and dirt-surfaced. The nearly 500-acre park also has a large fishing and boating lake.
Patsy Lucas described the park as "a quiet gem," saying "a peaceful, more beautiful spot would be hard to find."
Located at 8850 Sunflower Road, this park is mostly west of De Soto near K-10 Highway. Summer hours are 6 a.m. to 11 p.m. through Oct. 31.
Black Hoof Park — Lenexa
Relish a leisurely game of disc golf, kayak in a 35-acre Lake Lenexa or hike through wooded trails at Black Hoof Park. Little ones can also relax in a natural play area near the new Oak Shelter or a play stream open through October.
Reader Clara George is especially fond of the "beautiful flora and fauna" featured in the 230-acre park.
The park, located in a growing section of Lenexa, is near Monticello Road and 90th Street. Hours are 5 a.m. to 11 p.m.
Hidden Woods Park — Lenexa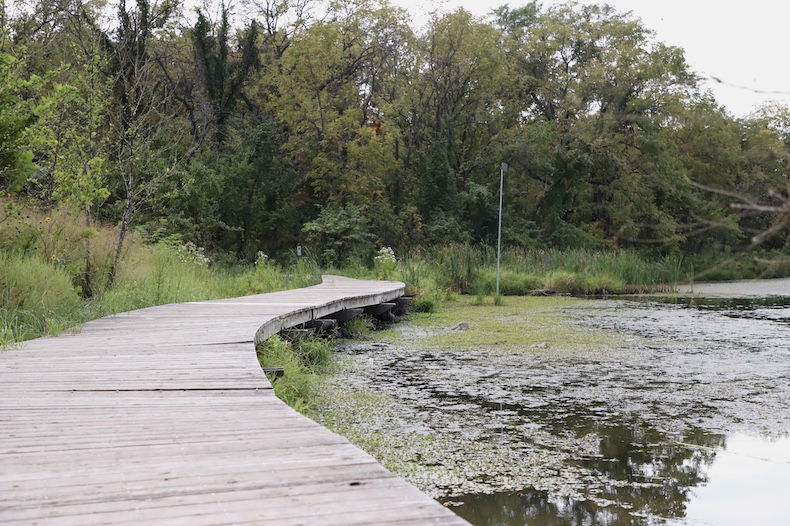 Literally hidden behind a Lenexa neighborhood and west of the Resurrection Catholic Cemetery, Hidden Woods Park covers 16 acres and features catfish and bluegill fishing and trails.
"[E]ven though it's a short distance from heavily traveled Quivra, 87th Street and I-435, you can get some peace and quiet," said reader Joe Quinn.
The park opens at 5 a.m. and closes at 11 p.m.
Ernie Miller Park and Nature Center — Olathe
A Johnson County-run nature preserve that spans more than 115 acres, Ernie Miller Park and Nature Center features many natural habitats, including tallgrass prairies, and has three miles of trails.
The park also has a quarter-mile accessible nature trail, picnic shelters and an educational center.
Just off of K-7 Highway and Nelson Road in Olathe, the park is open daily during daylight hours.
South Lake Park — Overland Park
South Lake Park, in north Overland Park, has floating wetlands, a pollinator garden and small lake.
Spend some time fishing or make use of the free outdoor fitness equipment. Visitors can also enjoy shade trees while they take a stroll on a paved walking path around the lake.
A small community park, it's at 7601 W. 86th St. It's open daily from 5 a.m. to 10 p.m.
A recent Post 5 to Try: Post readers pick the best day trips from Johnson County