Earlier this summer, the Post asked our readers what issues you wanted to hear candidates running for Leawood Mayor and City Council to address leading up to the Nov. 7 election.
Based on that feedback, we developed a five-item questionnaire centering the issues most important to Leawood residents.
Each day this week, we'll publish the candidates' responses to one question. (Note: We only asked for responses from candidates in contested races.)
Today, we're publishing candidates' responses to the following question:
Construction of the East Village project, formerly dubbed Cameron's Court, near 135th and State Line is underway after a years-long process that often proved contentious. The 116-acre development includes a mix of single-family homes, apartments and townhome-style villas, as well as office space, a restaurant, public amphitheater, a park and grocery store. Do you support this project? Why or why not? For you, what does ideal growth and development look like along the 135th Street corridor?
Below are the answers the Post received from candidates on this issue:
Mayor
Marc Elkins
While I would have preferred a lower population density for East Village, I believe that the approved plan is a reasonable compromise that permitted the property owner to develop the property generating more revenue for the city while mitigating any negative impact on surrounding neighborhoods.
East Village complies with the city's comprehensive plan that designates the area for mixed use and with the ordinance that governs mixed use development. East Village provides for residential density that is one half of that permitted by the ordinance. The plan also provides for a single set of consistent and complimentary development concepts for the entire 140-acre tract and eliminates the risk of piecemeal development with even higher densities.
The many public hearings on East Village mitigated the impact on surrounding neighborhoods. The city required that the buffer of single-family residences be expanded. Multi-family housing was pushed towards 135th Street. A park the size of the Chief's football field was added. Potential traffic issues were addressed by redirecting traffic to entrances from 135th Street. High Drive was redesigned to discourage direct entry into adjacent neighborhoods. Additional traffic calming was provided.
The City should revisit the plan for future growth on the 135th Street corridor. Mixed use for a combination of residential and commercial uses that generate revenue for the city should continue. However, the maximum residential density and permitted building heights should be reduced. Requirements of green space should be imposed. The proper mix of residential, office and commercial use should be reconsidered.
Steve Hentzen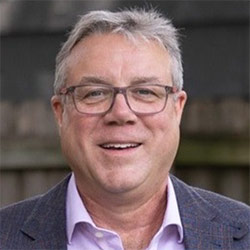 The simple fact of the matter is that the current planning commission and city council have not done enough to address residents' concerns or to adequately respond to public comments.
Over 2,000 Leawood citizens signed petitions protesting the way the planning process was being handled, and yet the planning commission — led by my opponent — rejected their concerns out of hand, leaving our residents in the dark. Our citizens and the process of planning our city's future deserve the full respect and consideration of our governing body, and our city deserves a mayor that will weigh all aspects of city development — fire, police, green space and city services — in considering our future.
City Council Ward 1
Bob Brettell
The development practices of the city have caused the most dissatisfaction with Ward 1 residents. This is another area where "communication" is actually about impact. Too many projects (and developers) have followed all the rules for public disclosure and discussion without actually satisfying the desire of residents to provide input and have their voices heard. While it's fair for developers and councilmembers to note that "the process was followed," stopping at that – which is where Marc Elkins came down – leaves the problem unnecessarily unresolved.
Three things need to be done to reform the city's development practices. First, all development projects should require solicitation of impacted resident feedback by the developer and submission of that information (positive and negative) to the city for consideration.
Second, unanimous consent of the ward representatives for the area impacted by the proposed development should be required for the council to act. Where there's a split of opinion among the ward representatives, the development should be rejected until such time as both positive resident feedback and unanimity of ward reps occurs.
Third, the rules for development need to be such that a developer can have confidence that by following them, their project will be approved. Even Marc Elkins admits that the development ordinance – over which he did or should have had control during his almost 20 years working for and with the city – needs revision. Better late than never, I suppose.
Development should begin with an understanding of what people most impacted by it want. If those folks agree that it's a good deal (again at a threshold level), then it heads to the reps to get in a room and agree to sponsor the project. This does away with all the protestations by developers of "we held meetings, but nobody came" and the residents who feel they aren't being heard. It's also important that the impacted ward itself sees some direct benefit from any project. Benefiting the city is nice and all, but if it's done at the expense of the ward, then that has to be addressed.
Mett Peppes
Many years ago, Leawood was known for being a bedroom community where the city was supported by residential property taxes. These new developments help support a large portion of the city budget and take some of the upward pressure off of homeowners. Right or wrong, the development of commercial and retail projects in Leawood has successfully kept the mill levy low and stable as it spreads around the tax base — which I'm sure all residents appreciate.
I would like to see developers continually push the limits on sustainability, create more green space within the communities they're planning and continue listening to neighbor feedback. There are processes in place to give neighbors a chance for their voices to be heard. Letters are mailed out and public hearings are held. I will ensure these opportunities are well broadcasted through a new digital campaign that focuses on updating the city's website to make it more user-friendly and accessible, as well as improving the city's social media presence to better reach and engage with the Leawood community. I will also encourage residents to take action and be part of the process so their voices can be heard.
Developers seem to be responsive to resident feedback so the more people who speak up, the more impact residents can have on shaping the community around them.
Alan Sunkel
I believe mixed use projects, such as the East Village project, can benefit the community in multiple ways: diversifying the tax base to ease the tax burden for residents; providing desired housing; giving residents more options when shopping and dining; and providing recreational areas. So I am in favor of mixed use projects that are thoughtfully designed with current and future residents' needs foremost in mind.
Of course, even beneficial change is difficult, especially for a large project. Good communication throughout the project's planning and construction phases is essential to ensure that the developer's vision is understood, that the community can assess the future value and has ample opportunity to provide feedback.
The East Village project went through many public meetings before the Leawood Planning Commission before ever appearing before the city council. However, people have busy lives and staying on top of all those meetings is a challenge. I believe councilmembers can help by letting their constituents know when their input can have the greatest impact. I have already started communicating with the residents and HOAs of Ward 1 with a monthly newsletter, which residents can sign up for at my website, AlanSunkelForLeawood.com.
City Council Ward 2
Margaret Berger
The East Village project saw our citizens engage with the city council in numbers that we haven't seen in years.
This experience taught us that we need to change the format of the working governing body and city council meetings.
The residents were frustrated by the lack of an interactive experience when trying to communicate their concerns to the city council. That made the public feel as though the city council was not listening to them.
The 135th Street project is moving forward. East Village made us all laser focused on what kind of a city we want to be. That focus has resulted in some height restrictions of buildings. These changes will help preserve the character of our city. Existing neighborhoods will benefit by these changes as the rest of the corridor is developed.
My priorities will be to listen to the residents and understand the value of their insight into the needs of their neighborhoods.
Sherrie Gayed
No project is perfect. For some history, this project did go through two years of back and forth between our exceptional planning staff and the developer. The developer met the requirements of the Leawood Development Ordinance and every request made by staff. That resulted in an approval at the planning commission level. It is approved as a planned development project on 116 acres, a planned development project results in a development that is more cohesive and built faster rather than the other possibility of several, disparate and non-cohesive, individual projects over what could be decades.
That being said, East Village is approved, and we must now look forward. In light of this project being approved, a second look should be taken to the 135th Street Corridor Plan to assess if it is still the appropriate future land use and guidelines for what we should be approving to be developed on the remaining land.
I currently sit on the Leawood Planning Commission, and we have already begun to look at some changes to those future development guidelines. With height and density being one of the greatest concerns to Leawood and its residents, we have voted to lower the maximum height from 90 feet to 60 feet, and we should continue to look at other development guidelines to see what continues to make sense and what may be revised.
Tomorrow, we will publish the candidates' responses to the final question: 
Regardless of who wins in November, this is guaranteed to be a change election for Leawood. The city's long-serving mayor Peggy Dunn, along with three veteran city councilmembers, are all stepping down. What changes, if any, would you like to see in how Leawood city government operates? Beyond that, how can the public get more involved in what City Hall does?